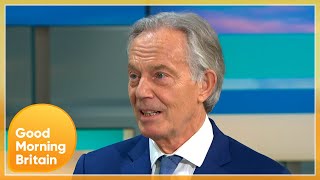 Alastair Campbell Quizzes Tony Blair: Will The Labour Party Ever Win Another General Election? | GMB
Former UK Prime Minister Tony Blair praises the UK's vaccine rollout but says there is still vaccine hesitancy and that the government needs to provide statistics for the public to raise confidence. Mr Blair defends his role in Labour's demise, shares whether he thinks he will be the last Labour Prime Minister and explains what he thinks Keir Starmer needs to do now.
Broadcast on 12/05/21
Subscribe now for more!
http://bit.ly/1NbomQa
Like, follow and subscribe to Good Morning Britain!
The Good Morning Britain YouTube channel delivers you the news that you're waking up to in the morning. From exclusive interviews with some of the biggest names in politics and showbiz to heartwarming human interest stories and unmissable watch again moments.
Join Susanna Reid, Ben Shephard, Kate Garraway, Charlotte Hawkins and Sean Fletcher every weekday on ITV from 6am until 9 every weekday!
ITV Hub:
https://bit.ly/37kf3wD
Website:
http://bit.ly/1GsZuha
YouTube:
http://bit.ly/1Ecy0g1
Facebook:
http://on.fb.me/1HEDRMb
Twitter:
http://bit.ly/1xdLqU3
http://www.itv.com
#GMB #TonyBlair #KeirStarmer