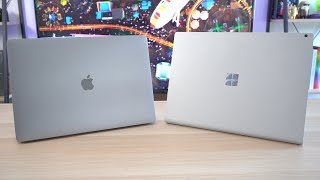 Apple's MacBook Pro vs. Microsoft's Surface Book 2
One of Apple's biggest competitors in the laptop space is arguably Microsoft, with its line of portable, productivity-focused Surface Book machines. Microsoft in November released its newest product, the Surface Book 2, a 2-in-1 PC that has quite a few selling points to entice Apple customers.
In our latest YouTube video, we took a look at the 15-inch Surface Book 2 and compared it to the 2016 15-inch MacBook Pro across a number of categories including build quality and design, key features, and overall usage experience for someone in the Apple ecosystem.
Read more here -
https://www.macrumors.com/2018/05/07/macbook-pro-vs-surface-book-2/
MacBook Pro -
https://amzn.to/2rq88Ob
Surface Book 2 -
https://amzn.to/2FRQkRf