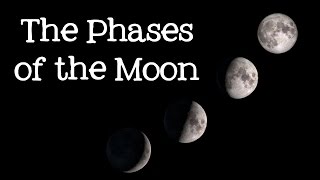 Phases of the Moon: Astronomy and Space for Kids - FreeSchool
https://patreon.com/freeschool
- Help support more content like this!
The moon changes its shape almost every night. But why? The phases of the moon are caused by the light from the sun and the moon's orbit around the Earth. From new moon through waxing crescent, quarter, gibbous, full moon, and waning back to new moon again, come learn about the cycle of shapes the moon takes (or rather, appears to take) as it travels around our planet.
Like this video if you want to see more videos about SPACE!
Subscribe to FreeSchool:
https://www.youtube.com/user/watchfreeschool?sub_confirmation=1
Visit us on Facebook:
https://www.facebook.com/watchFreeSchool
Check our our companion channel, FreeSchool Mom!
https://www.youtube.com/channel/UCTcEtHRQhqiCZIIb77LyDmA
And our NEW channel for little ones, FreeSchool Early Birds!
https://www.youtube.com/channel/UC3OV62x86XHwaqsxLsuy8dA
Music: Jaunty Gumption, Frost Waltz (Alternate), Arcadia, The Snow Queen - Kevin MacLeod (
incompetech.com
)
Some video courtesy of NASA's Scientific Visualization Studio and the ESO.